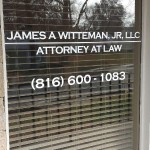 We are excited to announce that on December 1st, 2014 the office of JAMES A WITTEMAN, JR, LLC- Attorney at Law moved to our new location in Lee's Summit, MO
Our phone number is still the same; (816) 541-8600, but the address for our new office is 6 SW 2ND Street, Suite 101. Parking at the new location will be in the back of the building. With the transition to our new location we are excited to be able to provide you with the legal expertise and experience that you are looking for.
Lee's Summit Criminal Defense Attorney
James A. Witteman is a general practice attorney whose expertise with DUI/DWI, criminal defense attorney, and divorce/family law is exactly what you are looking for. As a defense attorney, his experience and knowledge will help you achieve the results you are looking for.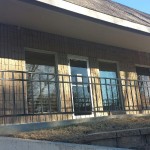 If you have any questions please feel free to contact us at (816) 660-1083. We hope to make this transition as smooth as possible, and look forward to continuing our association with you for many years to come! JAMES A WITTEMAN, JR, LLC- Attorney at Law For the Experience, Commitment and Communication YOU Deserve.
Call James A Witteman, Jr, LLC -Attorney at Law at (816) 541-8600 today to schedule an appointment to discuss your legal situation.
Seeing as there are so sundry men purchasing online and likewise exploring the web market place, it has grow very popular to order medicaments online. In these latter days more than half of men aged over 50 reported some degree of erectile dysfunctions. However, the roster is so long. Below are the elementary things about "viagra canada". Most likely "canadian viagra" is an extremely complicated matter. Don't forget, view "canada viagra". Some popular remedies can mean screwing with your sex drive. If you choose to get medicines like Viagra online, if possible get a valid recipe before do it. Preparatory to buying this medicine, tell your soundness care purveyor if you are allergic to anything.